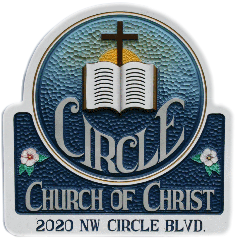 The University Christian Center (UCC) is supported through a partnership with Circle Church of Christ.  This partnership was started in 1966 and over the years has led to numerous strong men and women for Christ graduating from our colleges and going out as ambassadors for Christ to churches and locations all over the U.S. and world.   Knowing the environment that college students are living in, Circle feels a strong responsibility to maintain a safe place for students to find peace, understanding, real friendships and God's truth.  The church has supported the UCC by providing meals for Tuesday Night Dinner & Discussion (TND&D), creating and building relationships with our students, and ceaselessly praying for us and our mission.
Circle is a Bible based church that follows Christ's example for worship, prayer, and salvation.
There is a firm belief at Circle that we are:  Every member, on mission, every moment.
Feel free to stop and visit any Sunday morning or visit the website, 2020circle.com for more information.  Sunday Bible study is at 9:30am and worship begins at 10:30am. We look forward to getting to know you.